>

A sensing cable optimized for corrosive chemical liquids detection
+ Toggle navigation
A sensing cable optimized for corrosive chemical liquids detection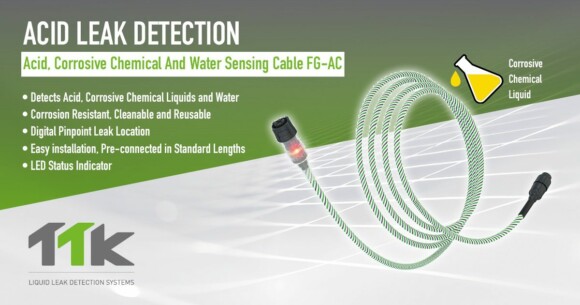 Sensing cable optimized for corrosive chemical liquids detection
Specially designed for corrosive chemical liquids, the FG-AC sensing cable detects and precisely locates acid, corrosive chemicals as well as water leaks at any point along its length. An extensive number of acids can be detected (page 2). The cable is made of a corrosion-resistant fluoropolymer that can be re-installed after cleaning.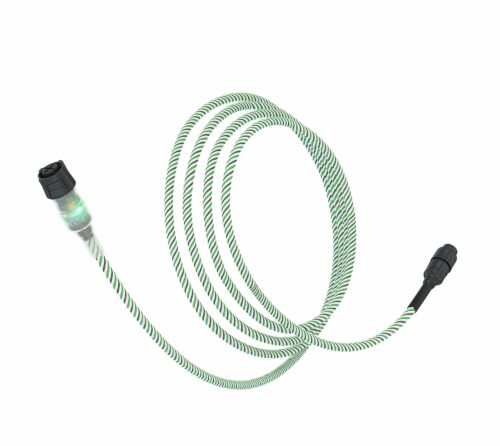 Addressable/digital sensing technology
Connected to any TTK digital leak monitoring panel (FG-NET, FG-BBOX, FG- SYS), the FG-AC sensing cables respond intelligently in the event of leaks of conductive liquids.
Each FG-AC acid sensing cable contains an embedded microprocessor, allowing a permanent monitoring of the cable status, using the same technology as the TTK water sensing cable. Real-time communication to the TTK panel is provided continuously. Every individual length cable of 3, 7 or 15 m is addressable, autonomous and independent, allowing simultaneous leaks detection within one detection line.
Each cable has a high visibility LED indicator to provide quick identification of the cable status allowing effortless inspection.
Green LED: normal status, no alarm raised;
Red LED: leak detection on the cable;
LED off: cable break on this or any upstream cable.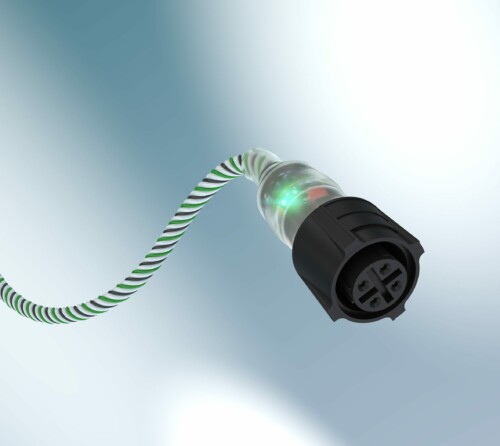 Easy extension of the system
Every individual standard length sensing cable can be interconnected (in both series and parallel mode) to provide an expandable network of leak detection.
Direct continuous and digital communication between the monitoring panel and each acid sensing cable (unlike zone monitoring panels in traditional analogue leak detection systems) makes the extension of the system easy.
Wide range of applications
The FG-AC sensing cables are small in diameter, light and flexible, allowing easy installation. The typical applications are laboratories, fab plants and cleanrooms among others. TTK acid sensing cables provide permanent protection to limit the financial consequences of an undetected chemical leak (Read the case study).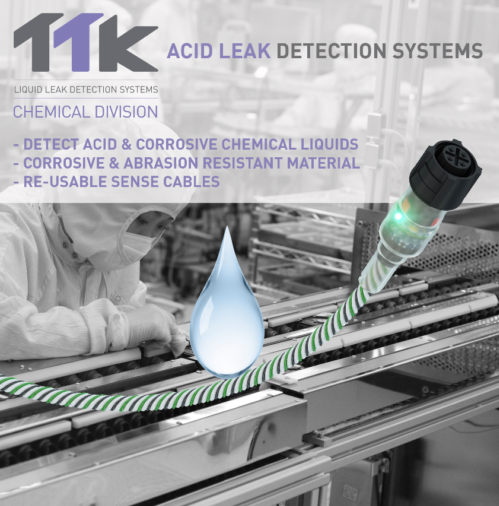 Proven strong resistance to fire and to abrasion
FG-AC fire resistance
The FG-AC acids sensing cable has successfully passed the most stringent test for plenum cables, NFPA 262 / UL 910, "Standard Method of Test for Flame Travel and Smoke of Wires and Cables for Use in Air-Handling Spaces" (also known as "Steiner Tunnel" Test) at the Fire Testing Laboratory of Intertek, USA in 2007. Read the test report
*NFPA: National Fire Protection Association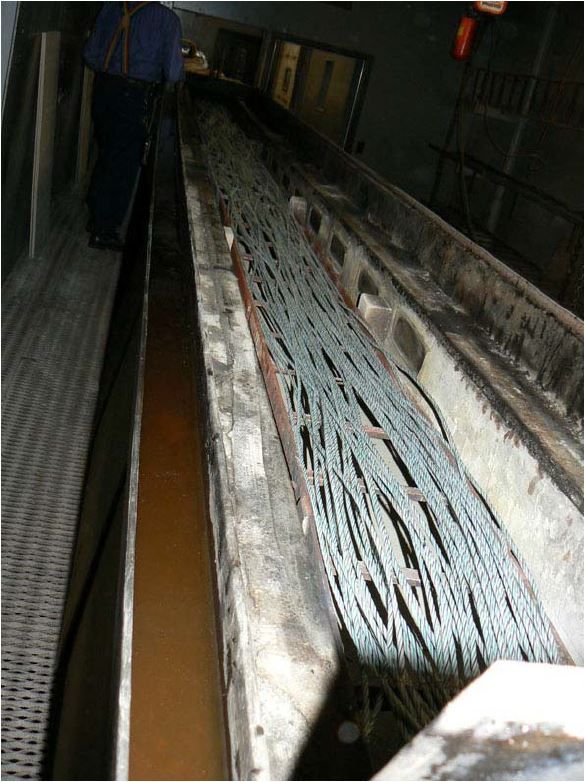 Photo: 40 lengths of FG-AC cables for Steiner Tunnel test
FG-AC Abrasion resistance
TTK's FG-AC sense cable has successfully passed the UL719 test for abrasion resistance of jacket on flat cable.
Technical Advantages
Detects Acid, Corrosive Chemical Liquids and Water
Corrosion Resistant Material
Cleanable and Reusable
Digital Precise Leak Location
LED Status Indicator
Easy installation, Pre-connected in Standard Lengths
Compatibility
The FG-AC sensing cable is fully compatible with all TTK digital water leak alarm panels.
Typical Application 
Fab plants
Cleanrooms
Laboratory
Cables on the perimeter of the areas and equipment to be protected, on floor surface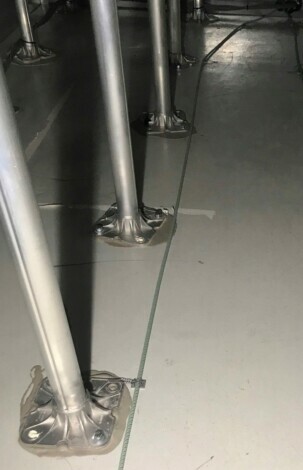 Cables under the raised floor
Contact Us
Should you wish to find out more or discuss your own specific needs, our sales engineers remain at your disposal to suggest the most appropriate solution. Contact us.