>

A Cost-effective Solution for any Hydrocarbon Liquids Leak Detection
+ Toggle navigation
A Cost-effective Solution for any Hydrocarbon Liquids Leak Detection
TTK's 8-Zone Hydrocarbon Leak Detection & Location Panel FG-ALS8-OD
When several generator sets are to be monitored for hydrocarbons leaks, it is important that they can be monitored independently and that the location is accurately displayed in the event of a leak.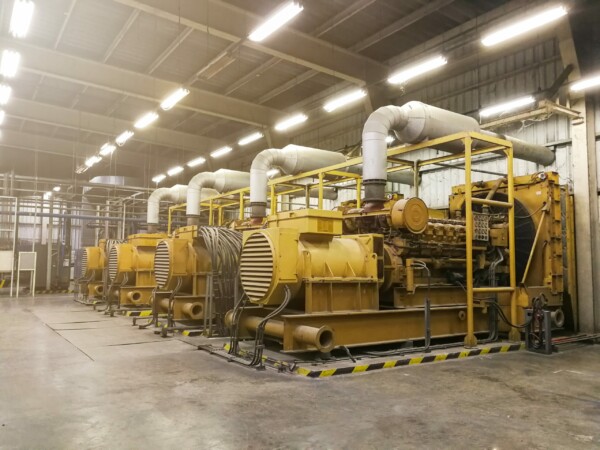 A large diesel generator room in a factory to be monitored for hydrocarbons leaks 365/24/7
Equipped with eight independent detection zones, the FG-ALS8-OD is designed for medium to large-sized applications requiring accurate hydrocarbons leak location. In a generator set room as shown in the below illustration, each hydrocarbon sensing cable is installed around a generator set, which corresponds to a dedicated zone. In the event of a leak, the alarm panel displays the zone location where the leak occurs (for example, Generator N°4).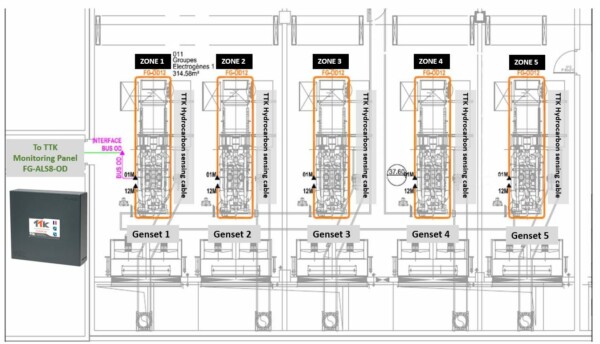 Since the ALS8-OD is equipped with RS485 serial link with JBUS/MODBUS protocol, it reports the alarm to the BMS for an even faster action to reduce downtime. Leak and cable break relays are available, which can allow automatic shut off of the leak source when configured.
Compared to its "younger sister", the FG-ALS4-OD – four zones panel, the FG-ALS8-OD doubles the system capacity (8 hydrocarbon cables vs. 4 cables at 12 metres length in any configuration required). It is simpler and more cost-effective than an FG-NET, a versatile monitoring panel more suitable for large-sized applications.
The ALS8-OD is a cost-effective solution for any hydrocarbon liquids leak detection.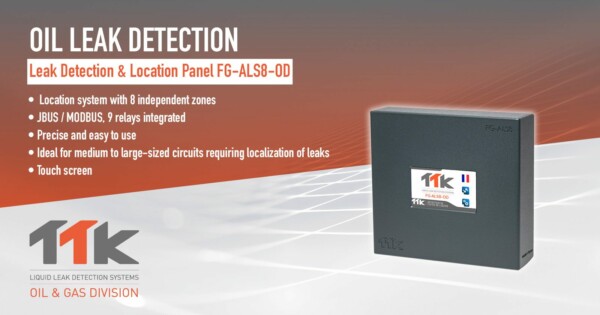 Typical Applications
Generator sets

Day tanks

Technical rooms

Fuel oil pipes

Data Centers

Airports

Oil storage tanks 
Technical Advantages 
RS485 serial links with MODBUS/JBUS communication protocol for interfacing with BMS.

User-friendly system - users can customise the system with the submenus accessible from the home screen (4.3" touch-screen), to set up the unit.

Locate hydrocarbon leaks on the section.

Detect cable-break fault.
System Layout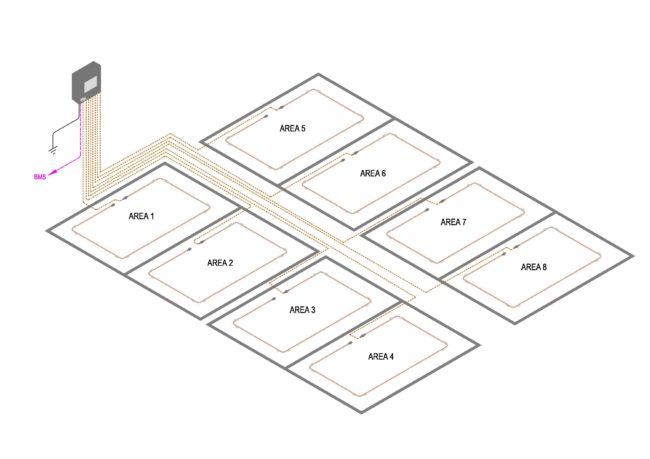 Product Details
Compatible with all TTK hydrocarbon sensing cables and point sensors here.
Learn more about FG-ALS8-OD on the product page.
Need Help?
Fill out our contact form or mail enquiry@ttk.fr, and we will have one of our engineer experts contact you.