>

Three Application-Specific Oil Sensing Cables By TTK
+ Toggle navigation
Three Application-Specific Oil Sensing Cables By TTK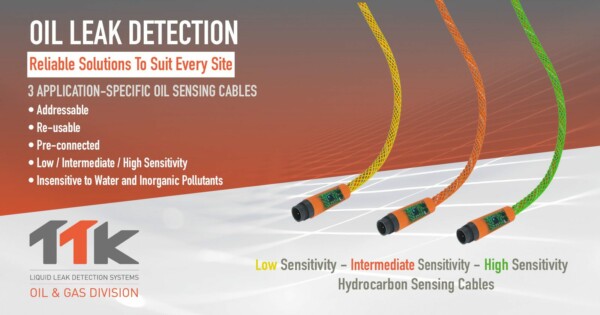 Why Three Different Oil Sensing Cables?
TTK offers a range of three sensing cables to suit various environment and cover their different requirements for leak detection.
The installation environments as well as the leaked liquids to be detected are different, requiring specific leak detection systems to respond to particular requirements. For example, the needs in terms of leak detection for a diesel generator room are different from a heavy crude oil tank farm, or from a jet fuel hydrant system.
Technical Advantages of Three Oil Sensing Cables from TTK
Three different levels of sensitivities to suit various environment
Reliable oil leak detection, do not react to water, inorganic pollutants or external loads
Re-usable and pre-connected
Leak location on section length providing precise information
ATEX approved - suitable for explosive area service
Compatibility
The three oil sensing cables are fully compatible with all TTK hydrocarbon leak alarm panels (FG-NET, FG-NET-LL, FG-ALS8-OD, FG-ALS4-OD, FG-A-OD, FG-STAD) and satellite devices (FG-BBOX, FG-BBOX-LL).
Characteristics of Three Oil Sensing Cables
The 3 oil sensing cables developed by TTK all have the same cable structure (embedded microcontroller, silicone sensing element and protective PE braid) with the same detecting principle, but are configured with different sensitivities during the manufacturing process.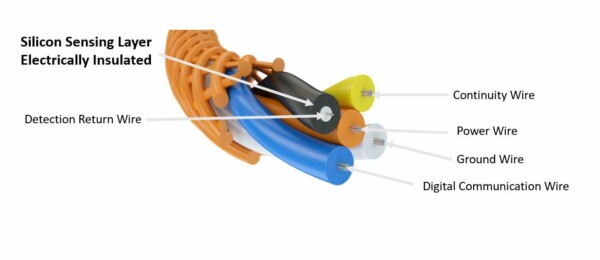 The low sensitivity cable (FG-ODR) is specifically designed to be used where hydrocarbon vapors are present in confined environments, or where some liquid pollution traces can come into contact with the sensing cable. In such cases, FG-ODR sensing cable can ignore the presence of vapors or minor pollution, avoiding false alarms. Because this type of cable is less sensitive, the detection time is longer.
Typical applications of the low sensitivity oil sensing cable:
Airport (valve chambers)
Confined environments
Lightly polluted environments
On the contrary, the high sensitivity cable (FG-ODC), is designed to detect heavy oils as well as vapors, and to provide a very fast response to light / medium distillates. To ensure its performance, a clean environment is paramount.
A new sensing cable, FG-ODC+, with even higher sensitivity and therefore even faster response to oils and vapors, has recently been developed to complete the range. It is capable to detect gasoline in less than one minute*, whereas the intermediate sensitivity cable detects it between 3 and 6 minutes*.
*: depending on exact liquid composition and leak conditions
Typical applications of the high sensitivity oil sensing cable:
Transformers
Lubricant systems
The intermediate cable in this range (FG-OD), is suitable for a wide range of applications and oils, both within building environments and for the oil & gas industry.
Typical applications of the intermediate sensitivity oil sensing cable:
From airports to service stations, underground pipelines to refineries, but also data centers, all three of the TTK sensing cables for oil leak detection have proved their efficiency through our range of successful projects around the globe.
Technical Comparison Table
More information can be found in the comparison table here.
Product Details
For more information on these cables and to download the product datasheets, see the hydrocarbon cable pages.
Need Help?
Not sure which cable to choose? We are here to help! Fill out our contact form or email us at enquiry@ttk.fr, and we will have one of our engineer experts contact you.