>

Use a liquid leak detection system as smart as your facility
+ Toggle navigation
Use a liquid leak detection system as smart as your facility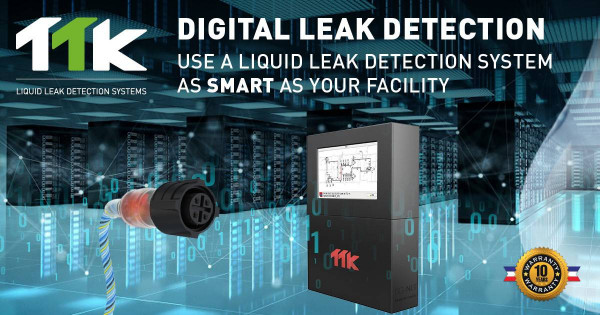 Why is TTK sensing cable is smart?
No more headaches triggered by an inaccurate leak location, no need to carry out frequent cleaning on installed sensing cables, no more calibration or mapping required after the installation, no issues in terms of powering and maintaining tens of zoning panels, say goodbye to a "paralyzed" leak detection system through multiple leaks occurred on a detection line.
Say hello to the forever accurate pinpointed leak location, the maintenance of your leak detection system has never been this easy, make room for lower equipment cost, all this, due to the digital communication brought by the TTK smart sensing cable with an embedded microcontroller.
A smart sensing cable = a microcontroller embedded sensing cable = an addressable and independent sensing cable
What is a microcontroller embedded sensing cable?
A microcontroller is a small computer on a single integrated circuit chip. when inserted in a leak detection sensing cable, the microcontroller gives a unique address, gathers real-time information and continuously communicates cable status with the monitoring panel.
TTK embeds the microcontroller on its water leak sensing cable - instead of the zone monitoring panel which is the traditional way. Accordingly, every individual standard length cable of 10, 23 or 49 ft becomes addressable, autonomous and independent. We call it "digital" and "smart". It is the opposite of the cables known as "analogue-based cable" or "passive cable". 
TTK microcontroller embedded water leak sensing cable with green/red identification LED 
How does a microprocessor completely change a leak detection system?
The presence of a microprocessor on a sensing cable completely changes its communication method with the monitoring panel and changes the general layout thus leads to huge benefits in terms of the entire leak detection system.
The 5 major benefits for the user due to the smart cable
1.      Every individual cable can be managed independently by the monitoring panel, therefore:
Each sensing cable can be given a specific name by the user - which leads to immediate identification.
The leak and break relays can be set up for each cable – convenient during use with external device as solenoid valve.
The reaction time to faults can be adjusted on a cable per cable basis.
Temporal isolation is possible on every individual sensing cable.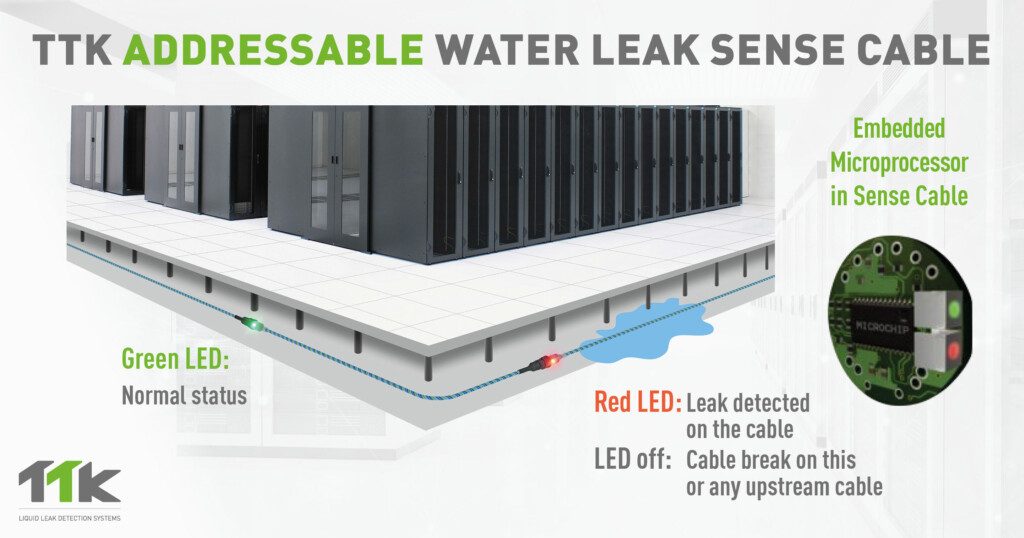 2.       No need to carry out preventive cleaning on installed sensing cable, as the digital cable is designed to tolerate a level of pollution (dust and all kinds of conductive residue from the environment) without affecting its performance, which is not the case for an analogue cable.
3.       Easy commissioning and troubleshooting with no need for calibration and mapping. After installation, all one needs to do is run a complete scan on the monitoring panel to all connected sensing cables.
4.       Reduces equipment cost significantly and consequently, makes the extension/upgrade of the system easier. Continuous and digital communication goes directly between the monitoring panel and each sensing cable without any intermediary. No need for zone monitoring panels. 
5.       Simultaneous leaks can be detected in one detection line. N leaks can be detected when there are N cables connected. - No leak can be hidden by another while the first leak is waiting to be repaired, which can sometimes last several days.
Contact Us
Should you wish to find out more or discuss your own specific needs, our sales engineers remain at your disposal to suggest the most appropriate solution. Contact us.