>

TTK advanced leak detection technology featured in "Tank Storage Magazine"
+ Toggle navigation
TTK advanced leak detection technology featured in "Tank Storage Magazine"
Why and how can TTK's innovative cable sensing technology (external-based technology) help to efficiently monitor today's storage tanks for oil leaks, while several different internal-based leak detection technologies have been found to be unable to fulfill increasingly stringent requirements in terms of accuracy and/or reliability?
This topic has been deeply explained in the article titled "A New Approach For Accurate & Reliable Storage Tank Leak Detection Monitoring", published in the October/November edition of "Tank Storage Magazine": one of the most influential magazines in the industry.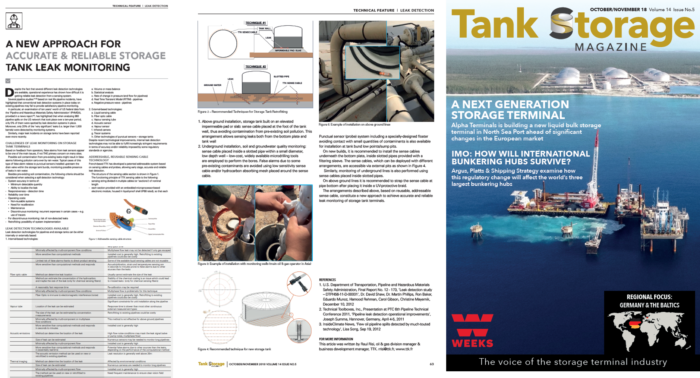 From the clear "pro and con" comparison table between the five main external leak detection technologies for oil tank storage, to the detailed techniques for implementation of the leak detection system for retrofitting and new tanks, illustrated with real site photos, this article explains in a simple, easy to understand way how to best choose and implement a reliable system for oil storage tanks. It is worth a reading!
Click here to download the article
To learn more about TTK leak detection and monitoring solution for oil storage tanks, click here.