>

TTK products are listed in Masterspec
+ Toggle navigation
TTK products are listed in Masterspec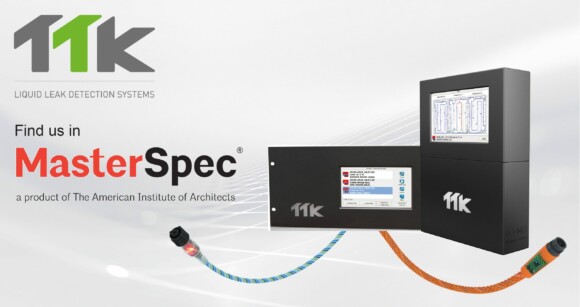 MasterSpec is a master guide and all-in-one specification used within the United States to express results expected in construction. This automation tool allows specifiers and architects to create specs more quickly and customize their specs. With MasterSpec, less time is spent researching since every product that is featured is credible and notable.
TTK is listed in MasterSpec since August 2020. Every detail and specification of our TTK fuel and water leak detection systems can be found on MasterSpec, in two new sections. They are positioned within Division 28: Electronic Safety and Security as a building-wide, multi-equipment leak detection system.
284300 – Fuel Oil Detection and Alarm
284500 – Water Detection and Alarm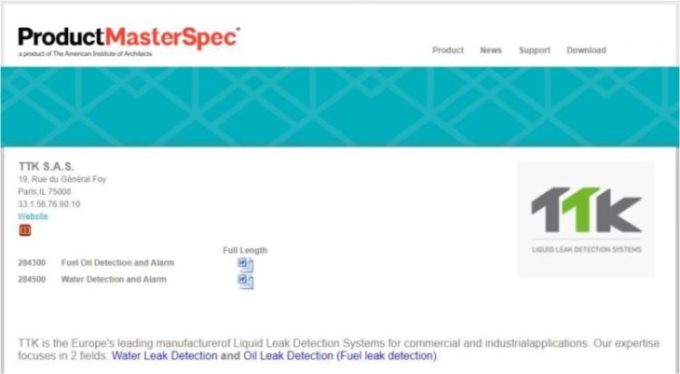 Find our Leak Detection Systems on MasterSpec®: the most trusted building specification system for your next project at http://productmasterspec.com/Profile/TTK_SAS/71233
With the future of smart buildings, commercial and industrial projects carry vast opportunities to utilize leak detection. Not only on a single piece of equipment but rather an expanded network of equipment and instruments.
The uniqueness of the TTK system offers your engineers the capability to monitor up to 1400 individual locations on a single control platform. That single control point being the emphasis of our system.
Currently, buildings are using multitudes of single location point sensors, all of which are required to be powered and connected individually to the building management system. These sensors can range from integral leak detection sensors in Air Handling Units and Computer Room Air Conditioners to external sensors monitoring Electrical Panels, Gensets, and Utility areas. Hundreds of power and system connection points can be reduced to one connection point and offer more information than ever available in the past. A single user interface will give the building's operating engineers the ability to quickly locate and resolve leaking systems and prevent catastrophic facility damage.
Our written specifications list all of the applicable CSI sections within commercial and industrial construction. They are all referenced within part 1.1 B in each specification and listed below to display the volume of applicable locations & equipment.
Please find below both specifications and directions: 
We look to bring attention to an integrated, addressable and unified leak detection system on our projects!
If you have any questions, feel free to contact us!