>

2 GOOD REASONS TO VISIT TTK AT DCW LONDON
+ Toggle navigation
2 GOOD REASONS TO VISIT TTK AT DCW LONDON
Launch Of 10-Year Warranty On All Products
&
New Range Of Fuel Leak Detection Sensing Cables
During this years' DCW exhibition, TTK will be located at both stand D1235 and inside the Green Data Centre.
To celebrate their 30th anniversary year, TTK, the European leading manufacturer of liquid leak detection systems has launched an industry-leading 10 Year Warranty, effective from March 2018, for all clients.
With a range of innovative sensing cables offering different levels of sensitivity for fuel leak detection, the TTK systems are suitable for a multitude of applications, from Data Centre generators to the Oil & Gas industry.
TTK Launches An Industry-Leading 10 Year Warranty Covering All Their Liquid Leak Detection Products
TTK products are manufactured in France, where the headquarters, the manufacturer plants and the R&D unit are located. The stringent attention given to quality and performance of products by the company is reflected by the extremely low level of global returns for defective products in the past 20 years.
"We have a lot of confidence in the quality and durability of every product we manufacture, so much so that with the occasion of our 30th anniversary upon us, we are now offering our clients an industry-leading 10 Year Warranty from the 1st of March 2018!" said the CEO of TTK, Olivier Gautier, one of the two founders of the company. For him, to launch such a warranty policy is a logical decision, despite there being no any prior example of a warranty of this kind within the liquid leak detection sector, where 12-18 month warranties on products are standard practice.
For more information about the warranty, please speak with our representative on the stand or visit our website: https://www.ttkuk.com/about_ttk/10-year-warranty/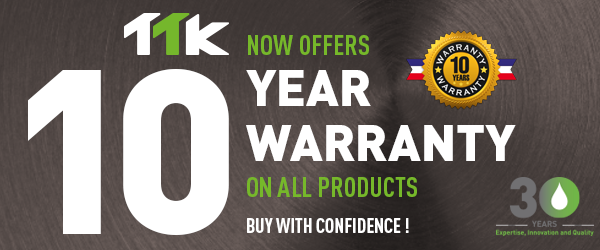 New range of fuel leak detection and location sensing cables available
TTK offers innovative technology with the ability to detect different kinds of liquid hydrocarbon; from the volatile liquid hydrocarbon used in confined environments to heavy hydrocarbons such as conventional crude oils. The TTK range of fuel sensing cables includes three different cables and probes, all of which are re-usable, provide a quick response and are suitable for hazardous areas (ATEX approved). The microprocessor embedded in each sensing cable allows instant digital transmission to the alarm unit.
Find us at stand D1235 in the exhibition hall where TTK experts will be present and happy to assist in answering any queries or providing product demonstrations.
About TTK
TTK, one of the world's leading manufacturers of Liquid Leak Detection Systems for almost 30 years, develops, engineers, manufactures, sells and installs their unique Addressable and Digital Liquid Leak Detection systems.
Digital Leak Detection Systems can help minimize liability, and reduce and mitigate risk, loss and downtime. TTK Detection Systems are designed for: Data Centres, Critical IT Infrastructure, Prestigious Commercial and Residential property, Oil Pipelines, Hydrocarbon and Petrochemical Plants, Bulk Storage and Offshore.
With its headquarters based in Paris and 7 subsidiaries around Europe, Asia, the Middle East and North America, TTK serves over 5500 customers worldwide, with leak detection installations in over 64 countries.
Contacts:
Website: www.ttkuk.com