>

Benefits of having a SINGLE leak monitoring panel for a multi-story building
+ Toggle navigation
Benefits of having a SINGLE leak monitoring panel for a multi-story building
Single Leak Monitoring Panel Solution for a Multi-story Building
In a commercial building, which risk areas need a leak detection system?

How can these risks be minimized with a SINGLE leak detection system monitoring panel from TTK?

What are the benefits of having a SINGLE liquid leak monitoring panel?
Find out all the answers below.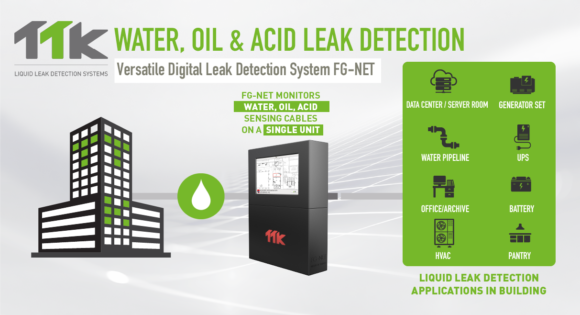 Water risk areas in building application
Principal risk areas in a building needing a leak detection system:
IT facility Network/Server Rooms/Data Center
Office and archive rooms
Chilled/hot water supply and return pipes
HV/LV switch rooms
Plant rooms
Basements/Generator sets
Pantries and related plumbing
Uninterruptible power supply (UPS) rooms
Batteries room
Service risers
Elevator pits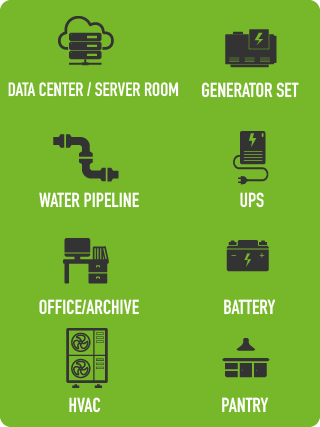 Without an efficient liquid leak detection system, a liquid leakage that goes undetected can be extremely detrimental with the potential of severe financial consequences caused by trading/work interruptions, equipment damage & loss and clean-up costs.
TTK digital liquid leak detection solutions for commercial buildings
TTK offers reliable liquid leak detection solutions with the FG-NET system: a powerful digital leak detection monitoring system, optimized for use in multi-storey building applications to help minimize liquid leak risks and prevent business downtime.
TTK's flagship FG-NET is a truly versatile monitoring panel capable of monitoring a mix of water, oil and acid leak detection sensing cables and probes, offering a comprehensive leak detection solution in multi-story building applications.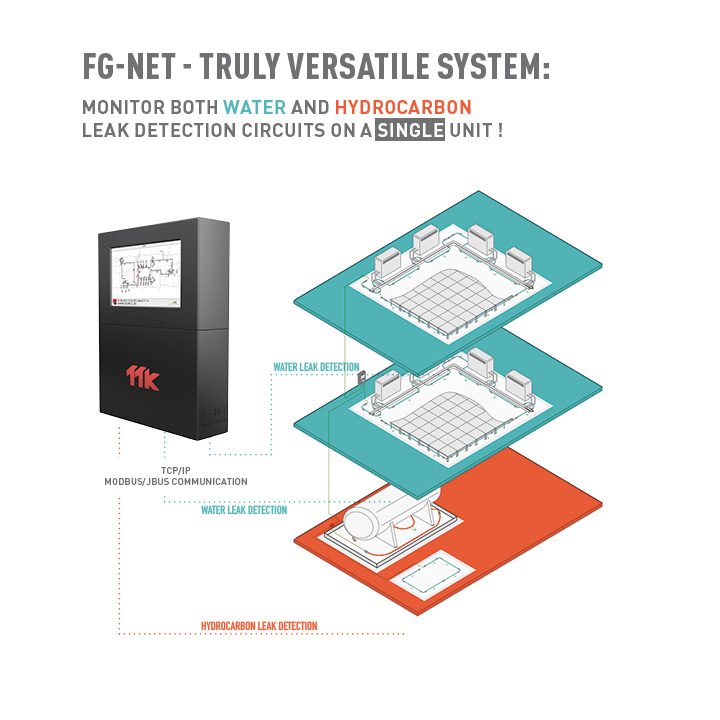 To learn more about FG-NET: the versatile monitoring panel
Tired of having multiple leak monitoring panels? It's time to take the leap with an FG-NET.
Liquid leak detection systems consisting of multiple control panels are too often provided to users, using a concept of one master panel coupled with multiple zone modules. The zone modules supervise sensing cables connected on them, and in turn, are supervised by the master panel.
The architecture of such a system therefore becomes complex for larger space, not to mention the heavy workload during and after the installation. The calibration or mapping on each zone panel, powering and maintenance of each zone panels are required.
Furthermore, in operation, it is common to see a zone leak detection module and entire cable line being "disabled" due to multiple leaks occurring on a single detection circuit.
Thanks to the integrated digital communication brought by the TTK digital sensing cable with an embedded microcontroller, this situation never happens on a digital system.
To learn more about the benefits of a digital system compared to an analogue system, read the blog:
"Smart Water Leak Sensing Cable From TTK"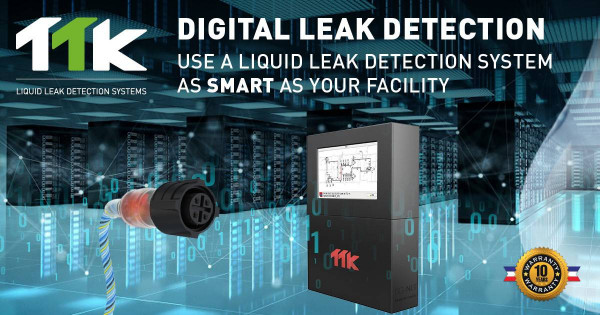 Benefits of having a single liquid leak monitoring panel
Significant cost reduction with less equipment and lower installation/maintenance costs
Simplicity: all detection cables types (liquid, oil, chemical) and parts are fully compatible with one single panel
User-friendly management: the entire system status and alarms are centralised in one place allowing quick and easy identification
Easy to use, commission and maintain
Easy extension of the system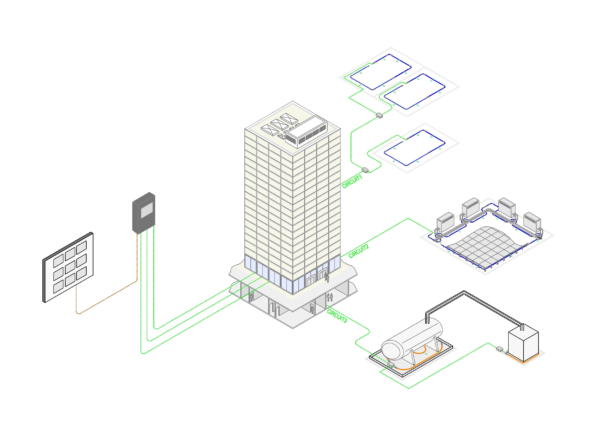 For over 30 years, TTK has been a proven industry leader and partner. Our liquid leak detection systems provide continuous monitoring to secure and protect your assets and infrastructures. Contact our team to get more insights.
To learn more about FG-NET: the versatile monitoring panel
Alternative solution 
If you need to protect small and medium areas against liquid leaks, our range of 4 or 8 zone monitoring panels FG-ALS4/8 might be the solution for you.