>

Manage your leak detection systems wherever you are with TTKweb!
+ Toggle navigation
Manage your leak detection systems wherever you are with TTKweb!
How to remotely manage multiple leak detection systems located on multiple sites?
With "TTKweb", you can manage your TTK digital leak detection systems wherever you are!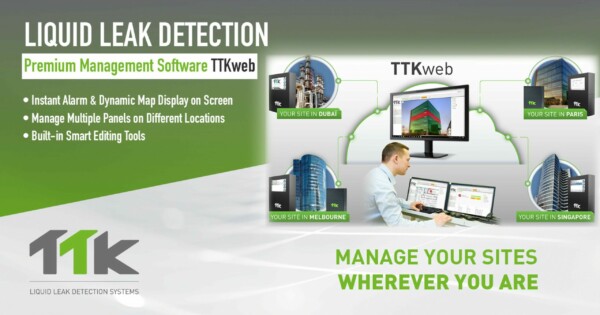 "TTKweb" is a user-friendly premium management software for TTK leak detection systems. It displays on a PC the status of all connected panels and their sensing cables in real time. Furthermore, in case of alarm, the user can view the location of the alarm on a zone map, remotely activate a relay, operate a solenoid valve, or disconnect a sensing cable directly on TTKweb, allowing a total remote and centralized management of multiple leak detection systems.
TTKweb also has built-in smart tools allowing configuring the system without additional external software.
A valid license code is required to use TTKweb software.
Product Details
Learn more about TTKweb software, download TTKweb and brochures on its product page.
Compatibility
TTKweb is fully compatible with TTK digital water leak alarm panels FG-NET and its satellite devices: daughter panel FG-BBOX and external relay box FG-RELAYS.
Typical Application
TTKweb is ideal to be used when several FG-NET panels are installed on multiple sites. It makes multi-sites management easy.
Need Help?
Fill out our contact form or email us at enquiry@ttk.fr, and we will have one of our engineer experts contact you.